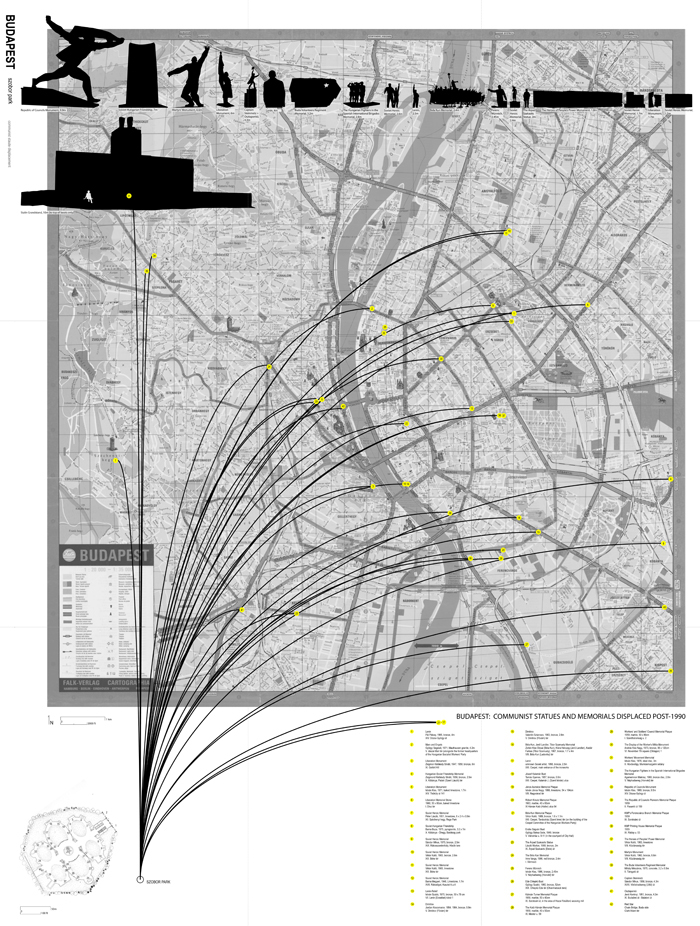 Budapest statue displacement.
Mapping Ostalgie
2008 -
Mapping Ostalgie is an ongoing investigation into how nostalgia has been shaping Eastern Bloc cities since the fall of the Iron Curtain. Ostalgie is the word that links nostalgia and the East; it is a curious mix of memory and amnesia that usually only manifests itself as a tongue-in cheek fetishization of Soviet era material culture. Its wildly imaginative reworking of the past, however, could inspire a re-invention of nostalgia as a progressive and productive force in architecture.
The maps of Berlin, Budapest and Bucharest presented here are accounts of how cities manipulate themselves into archives of their past. Berlin, a city rigidly bifurcated into East and West for almost forty years has gradually transformed its downtown into a gradient equivalent of the Berlin wall, with Western culture slowly proscribing the Eastern cityscape. Budapest, a city that has always kept itself aloof from Soviet era efforts at urban transformation, took the most visible evidence of their occupation -- statues of Lenin, Stalin, and other communist heroes -- and relocated them to a single park well outside the city limits. And in spite of Ceaucescu's traumatic urban interventions in Bucharest, his extravagant Casa Poporului has been transformed into a symbol of democracy almost overnight.
The accompanying maps describe how nostalgia is already shaping entire cities, urging us to reconsider how nostalgia could be transformed into a more active mode that identifies and expands upon dormant potentials of the past.