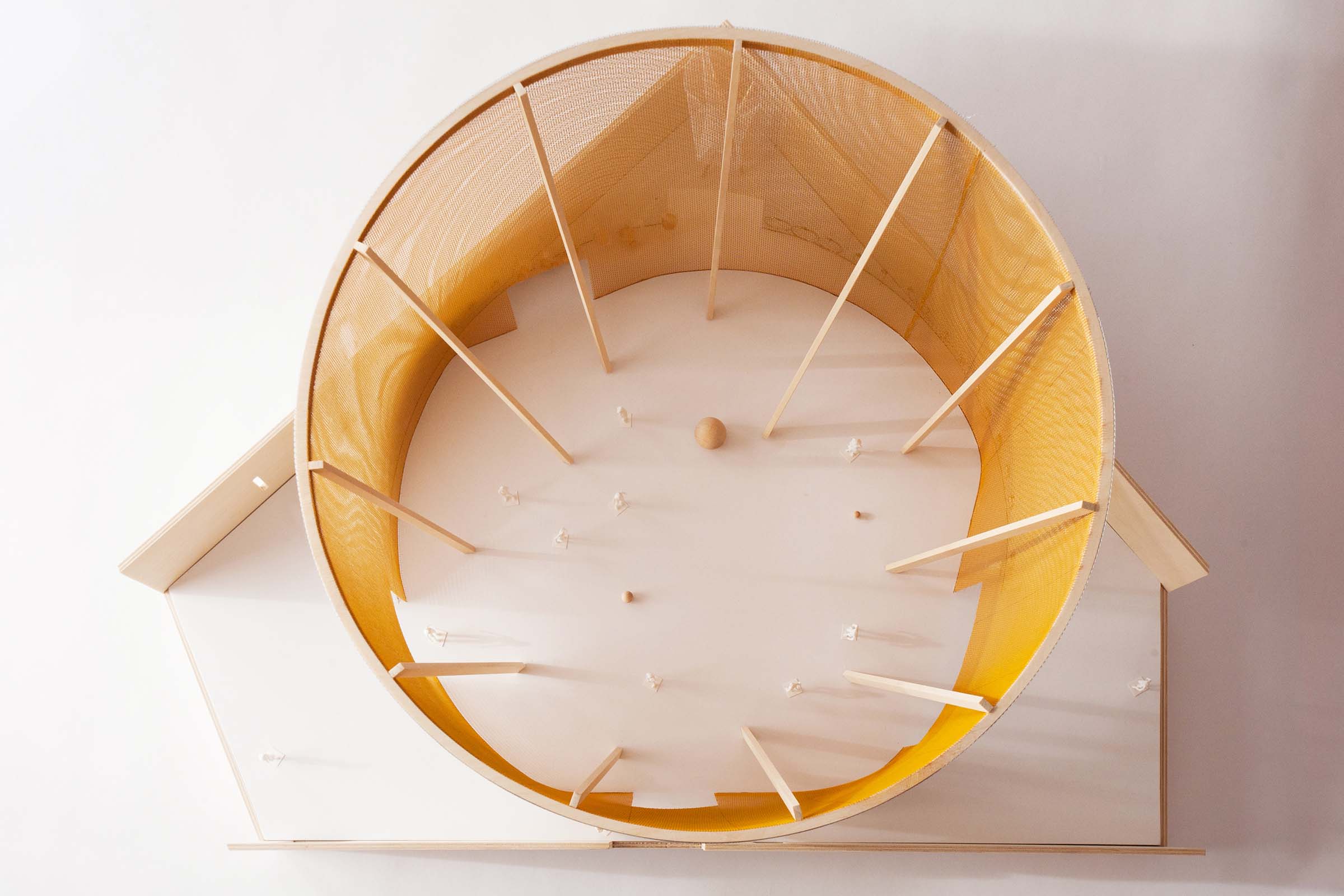 < 0 1 2 3 4 5 6 7 8 9 10 11 12 13 14 15 16 >

MoMA PS1 Competition Finalist
2016
This is a project about the most fundamental act of architecture: the creation of a boundary. Through separation, boundaries allow difference to flourish. They create the space in which new ideas and organizational forms can take root. The schoolyard is the archetype of this relationship. Inside the school, structured learning takes place. Out in the yard, as-yet-unidentified games emerge. Circumscribed by a light boundary separating it from both the institution and the harsh reality of the city, the school yard is a place of temporary fantasy. The mischievous worlds staged during 20-minute recess breaks then find their ways back into the classroom, and into the city at large.
A simple boundary is formed through the collusion between centuries of layered real estate transactions with a pure Euclidean geometry: an inscribed circle. This simple demarcation has profound consequences: different rules apply inside the circle than outside. Combining a fascination with enormous lightweight structures with the use of cheap industrial materials, we can begin to consider how little it might take to delineate a maximum space - to create an immense volume without mass. A clearing in the city. A space for recess.
The interior is a flexible space that encourages play in its many guises. In addition to allowing for daytime recreation and massive crowds during music events, its subtle order creates opportunities for new forms of games and performance. The volume rises to a height of fifty feet, shading the courtyard on hot summer days and screening the immediate context with a soft but porous veil, creating the necessary preconditions for fantasy and play.
The boundary is made up of two chain link layers: one left raw, the other brightly colored; one vertical, the other inclined. Together the layers create a boundary with depth, ripe for exploration.
Rather than fussy details or precious materials, the emphasis is on maximizing space for play. Two simple materials – chain link and wood – used in structural counterpoint allow us to define this boundary with incredible economy. Chain link is used to stabilize the form while revealing itself to be beautiful and sensuous: a fabric with an origin in urban grit. The timber frame – eleven shifting columns at a scale rarely seen – negotiates between structural demands and spatial richness. It stands away from the boundary to create a subtle order of its own within the volume.
A number of movable elements instigate play. Hula-hoops, frisbees, and jump-ropes are the minimal tools for rule-based movements: they are essentially lines in space. When not in use, this equipment is hung between the layers of chain link, forming a transparent display of possibilities for action. In addition, oversize balls made of tightened chainlink and giant model trees made of lumber and construction netting confound the scale of the space and its players. Suddenly, we are all children again…
Project Team: Will Gant, Hua Gao, Tida Osotsapa
Structural Engineer: Brett Schneider, Guy Nordenson & Associates. Chris Carbone, Bensonwood
Lighting Design: Elettra Bordonaro, Light Follows Behaviour
Pen Plots: Carl Lostritto
Animation Extras: Song Du, Sage Dumont, Yin Fu, Daejeong Kim, Conor Oberlander, Ariel Resnick, Natasha Ruiz, Daniel Stone, Jentz Zirbel
Special Thanks To: Laura Briggs & Jonathan Knowles, RISD Architecture