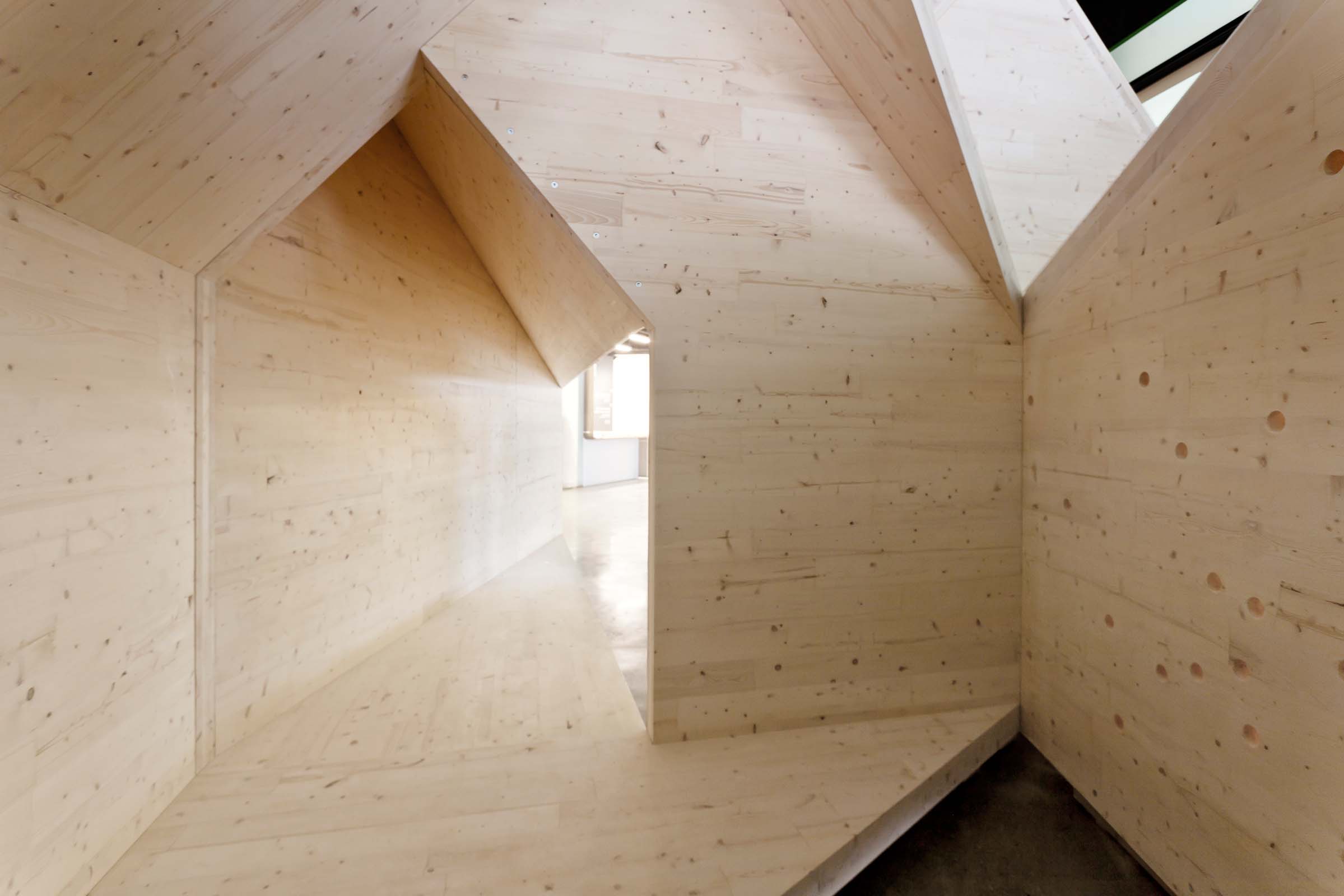 Pavilion (built)
2014
Four Corners reimagines the traditional timber bent as a three-dimensional construct, unfolding through space and developing unexpected forms and relationships. The design is composed of a series of Cross Laminated Timber "corners" of complementary proportion cut from a barn-shaped primitive and reassembled into a cantilevering column-assembly. Through recombination, arraying, and stacking, a varied and unexpected labyrinth arises.
Four Corners is composed of three interlocking column-assemblies forming a network of corridors, courtyards, and outward-facing apses. The central courtyard space serves as a micro-exhibition space featuring a rotating series of video works by artist Noah Klersfeld. The corridors and apses lead to the windows looking out to the city, creating a series of semi-private rooms in conjunction with the existing architecture.
Each column is assembled from four CLT bents cantilevering off of a central 'column', which is actually an extension of one of the bent walls down to the floor. Though each bent is structurally incomplete, when assembled into the four-corners column they become rigid. Likewise, once each column assembly is attached to its neighbors, they act together to become stable. CLT is used monolithically as both structure and skin, in keeping with the tradition of timber construction.
Structural Engineer: Chris Carbone, Bensonwood
Advisory Architect: Andrew Waugh, Waugh Thistleton Architects
Fabricator: Jean-Marc Dubois, Nordic Structures
Installation team: Jack Dinning, Jimmie Drummond, Pei-Ying Lin, Leo Henke, Neda Mostafavi, Matthew McMahon